ALERT - PROZINC SHORTAGE IN THE US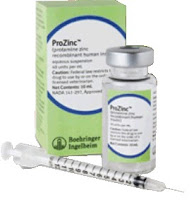 In a letter written to veterinarians on July 20th, 2012, Boehringer Ingleheim Vetmedica Inc., manufacturers of ProZinc , have warned that due difficulty obtaining protamine (used in the manufacture of ProZinc), a shortage of ProZinc has occurred and it is not available from the manufacturer at this time.
It is not known for certain how long or how frequently these shortages will occur.

This letter fromn BI Vetmedica Inc., was posted on Dr. Mark Peterson's Insights into Veterinary Endocrinology website:
http://endocrinevet.blogspot.ca/2012/07/temporary-shortage-of-prozinc-pzi.html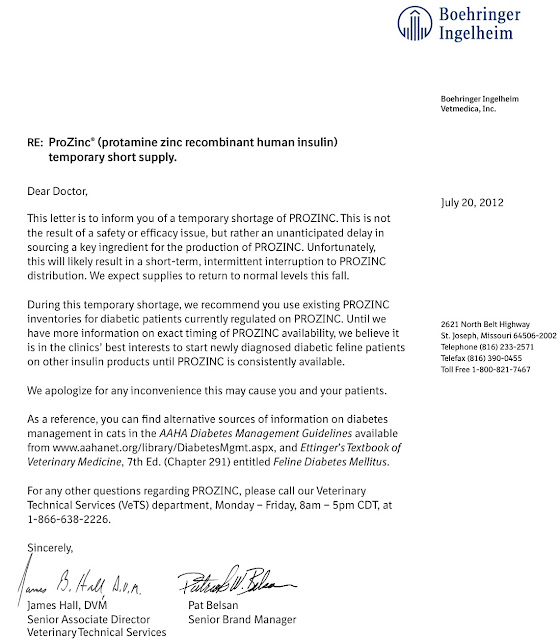 If you are using ProZinc, you may want to purchase another vial or two from your vet as soon as you can so that you do not run out of insulin in the event the shortage lasts longer than anticipated.

If your vet does not have ProZinc in stock, ask if they will give you a prescription to send to PetMeds or one of the other searchable online pet pharmacies/distributors that carry ProZinc, to prevent suddenly running out of insulin and not being able to get any more before the situation resolves itself.
If you find yourself in the position where you cannot get any more ProZinc from your vet, and/or your vet will not write a prescription for you to try to source some ProZinc yourself, there are alternative insulin types that can be used - both compounded PZI insulin types, and various synthetic human insulin types. Below are a list of insulin types which have been used successfully for cats - please note that each type has different properties when it comes to how it works for cats. More information of the nuances of the different insulin types are available on the Diabetic Cat Care forum.

BCP Bovine based PZI
Stokes Pharmacy Bovine based PZI
Lantus
Levemir
NPH (Humulin N)
If you need assistance to decide which insulin to switch your cat to because you are not able to get any more ProZinc, please join us on forum at http://www.diabeticcatcare.com/forum/index.php for assistance to help you navigate through what steps to take to safely transition your diabetic cat to another insulin type.
See More
©
Diabetic Cat Care July 2012